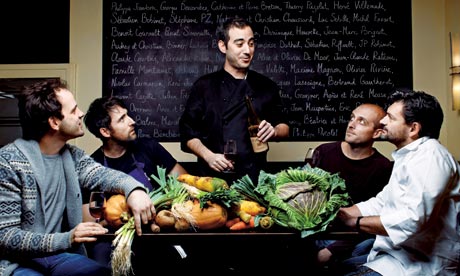 Gregory Marchand (Frenchie), Inaki Aizpitarte (Chateaubriand), Daniel Rose (Spring), Giovanni Passerini (Rino) and Stéphane Jégo (Chez L'ami Jean)
Last weekend, Ian Tucker for the Guardian wrote of the "new" movement of bistronomy "taking over" the Paris dining scene.
Perhaps the movement is "new" when cast against the long history of French gastronomy...but I can't quite help but think this may have been a cheeky way for Ian to expense an amazing week of bistro hopping through Paris in the name of new news. Kudos Ian for milking more page time out of these brilliant and quirky restaurants! I love them all...especially
Chateaubriand
(yes, I may be bias, my time in the kitchen there was exceptional).
You can read the complete article and chef summaries here:
You can find more about the Paris restaurants I love above (
Eating Out
).